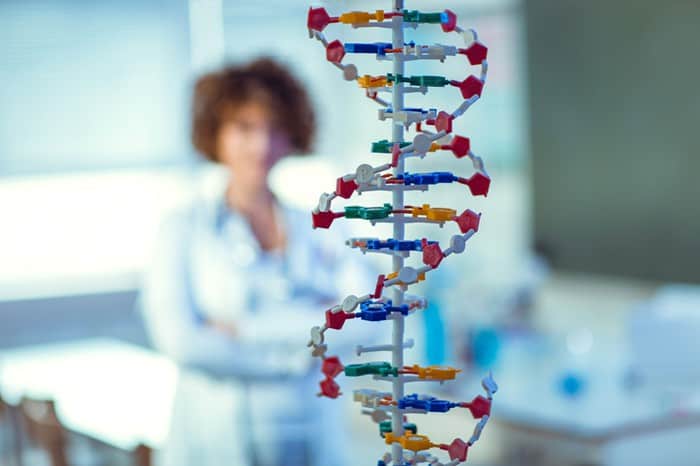 Sticking to a long-term investing strategy is simple, but not easy. It usually requires years of experience to learn how to suppress emotions (as best as possible) and not follow the whims of the crowd. When a stock collapses on one bad earnings report, perhaps that's a screaming opportunity to start or add to a position. Similarly, when a stock shoots up irrationally, it may be a good time to take some profits off the table.
Given the emotional component of money — especially your money — investors can boost their confidence a little by taking a peek every once in a while at what the best investors in the world are buying and selling. We recently asked three contributors at The Motley Fool for their picks of the best stocks being added to the most successful funds right now. Here's why they chose Codexis (NASDAQ:CDXS), International Paper (NYSE:IP), and General Motors (NYSE:GM).
Tiny enzymes are big business

Maxx Chatsko (Codexis): After adding to existing positions in recent months, BlackRock and Vanguard Group now combine to own about 11% of Codexis. The small-cap biotech company has a low-profile niche engineering enzymes for various applications. Enzymes are complex molecules used by living things to carry out essential processes such as replicating cells, removing wastes from tissues, and harvesting energy from the environment. Essentially, enzymes work by speeding up chemical reactions — and that utility holds true in industrial processes, too.
Codexis wields a technology platform allowing it to rapidly engineer enzymes for a wide range of industries and applications. For instance, it supplies products to some of the world's largest pharmaceutical companies, helping them to manufacture drugs more efficiently, and to Tate & Lyle, helping it to make a zero-calorie sweetener ingredient for food and beverage applications. It's also developing enzymes with Nestle Health Science — the first of which just got picked up by that partner — that could become therapeutic medicines for rare diseases.
This year, the biotech will also begin market-testing novel diagnostic products powered by its enzymes that can be used in conjunction with DNA sequencing machines. On top of all that, Codexis also licenses its software platform to several core customers, such as pharmaceutical giant Merck, for eight-figure sums.
Codexis is by no means the largest enzyme engineering company in the world, but the business has finally turned a corner. Continued execution on the wealth of high-margin opportunities it has available could allow the small-cap biotech to deliver its first quarterly operating income in late 2019. That momentum has powered shares to a three-year gain of 440%, although at a market cap of just $1.2 billion and no shortage of growth potential, individual investors may want to start a position in this under-the-radar business.
What the world's largest hedge fund's betting on

Neha Chamaria (International Paper): As the founder of the world's largest hedge fund, Bridgewater Associates, Ray Dalio is among the most successful investors in the world. Proof of Dalio's success, in fact, lies in the fund's consistently strong performance: He earned nearly $8.1 billion in profit in 2018, making Bridgewater Associates the best-performing hedge fund in the U.S. for the year. The fund currently manages assets worth nearly $124.7 billion.
Dalio's stock moves, therefore, are closely followed by investors. And one of his recent buys that caught my attention was International Paper. It was among Dalio's top five stock additions in the quarter ended Dec. 31, 2018, as Bridgewater bought 1,311,306 shares in the paper and packaging company for an estimated average price of $45.85 per share.
Dalio perhaps saw value in International Paper after its stock fell nearly 26% since the beginning of 2018 through mid-October. Part of Wall Street's pessimism stemmed from the ongoing trade war between the U.S. and China. Fears of tariffs hitting exports of raw material and finished paper products to China — a key consuming nation — loomed large.
International Paper, however, eased those fears when it delivered strong numbers for its fourth quarter and fiscal year 2018 in January, reporting impressive growth in operating profits from all its segments.
Two numbers stand out from the company's outlook for 2019: projected free cash flows worth $2 billion, of which $500 million should go toward debt reduction, with the rest returned to shareholders in share repurchases and dividends. Last year, International Paper increased its dividend by 5.3%. With a solid 4.3% dividend yield to boot, the company seems to have made it into Dalio's portfolio for valid reasons.
Buffett's bet on GM

Chris Neiger (GM): Warren Buffett, the CEO of Berkshire Hathaway and one of the world's best investors, has added General Motors' stock to his company's portfolio many times. Berkshire's most recent purchase came at the end of 2018 when it bought 19.8 million shares of the automotive giant.
There are a couple of reasons Buffett may be bullish on GM. The first is that the company's shares are trading at just six times forward earnings right now. Aside from GM's shares being relatively inexpensive, the automaker's strong dividend yield of 3.8% is also enticing for many investors.
The second reason for GM's lure right now is its focus on positioning itself for a rapidly changing automotive market. Just a few months ago, the company announced it was restructuring to focus more attention on building electric and autonomous vehicles. That decision comes as annual global autonomous vehicle (AV) sales are expected to surpass 33 million in 2040.
That may seem like a long time away, but GM is working on building that future now. The company's Cruise Automation subsidiary is working on mass-producing a fully self-driving car this year and is expected to launch its own AV ridesharing service this year as well. If that seems premature, consider that Alphabet's Waymo already has a commercial AV ridesharing service running in one city, with plans to expand later this year.
With GM already fast-tracking what it believes will be the future of the automotive industry and the company trading at a discount right now, it's no wonder Buffett is bullish about this automotive giant.