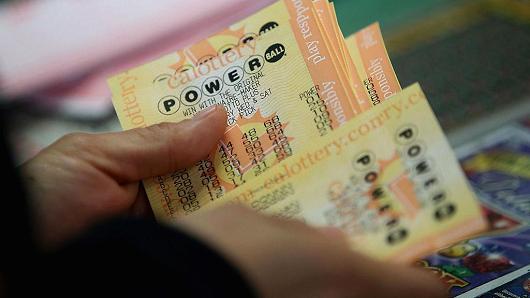 Whoever is holding the winning ticket for Powerball's jackpot is likely discovering that picking the right numbers was the easy part.
Sold in New Jersey, a single ticket snagged the $315.3 million grand prize in the game's Saturday night drawing. That amount is reduced to $183.2 million if the winner (or winners) chooses a lump sum instead of spreading it out over several decades.
Whoever gets that windfall will discover that handling sudden wealth can be overwhelming. It's not as simple as taking the check and going on with your life.
First up, say experts, is trying to protect your identity. However, the ticket was purchased in New Jersey, a state that does not allow lottery winners to claim their prize anonymously.
While the winner could claim the cash via a trust, New Jersey lottery officials can release the person's name and hometown according to state laws, said Jason Kurland, an attorney with Certilman Balin Adler & Hyman, a law firm in East Meadow, New York.
Only a handful of states let winners remain anonymous when they collect their prize.
Top 10 Powerball jackpots
While anonymity is impossible in this case, the winner should assemble a team of professionals who are experienced in helping lottery winners. That includes an attorney — this should be the first call — an accountant and a financial advisor. These experts should be chosen carefully.
Here are some other tips for winners.
Keep the ticket close
The general advice is to sign the winning ticket and make several copies. The idea is that if you somehow are separated from the ticket, your signature should help ensure you get the prize.
However, a recent lawsuit in New Hampshire shows the importance of knowing your state laws before you do much of anything.
In that court case, a woman known only as Jane Doe sued to keep her identity private after winning the $559.7 million Powerball drawing on Jan. 6. She had signed the back of her ticket, only to discover that her signature meant she could not opt to claim her winnings anonymously.
While the judge ultimately ruled that her right to privacy was more important than the public's right to know her name — she was allowed to collect the money via a trust — the situation illustrates the importance of knowing your options.
Take a deep breath
Typically, lottery winners have several months to claim their prize. This gives you time to assemble a team of advisors.
When you suddenly become so wealthy, protecting your assets will become a priority. Make sure you choose your team carefully.
Consider vulnerability
Whether you remain anonymous or not, actually spending the money could reveal your new-found wealth. Experts say that having this cash makes you more vulnerable to lawsuits.
"If someone gets in a car accident with you or falls in your home and they think you have deep pockets, they might try taking legal action against you," said Annmarie Camp, an executive vice president at Chubb Personal Risk Services.
"Even if you're in an accident, and a high-end luxury vehicle comes to pick you up, the other person might say, 'Hmm, maybe my neck does hurt,'" Camp said. "That is absolutely a reality."
Consult with an insurance agent who can offer protection against such potential claims, and make sure there are no gaps in your coverage.
Decide how to take your winnings
Figure out whether to take the lump sum or 30 allotments over 29 years. This decision is often made based on your tax situation. This is when relying on the advice of pros (and not family or friends) makes sense.
Consider the big picture
Before spending a dime, think about what this sudden wealth means — not only financially, but emotionally.
Give yourself time to process the magnitude of your win. This is often when winners begin to think about their legacy and what societal contributions they want to make. Some even set up their own charitable organizations.