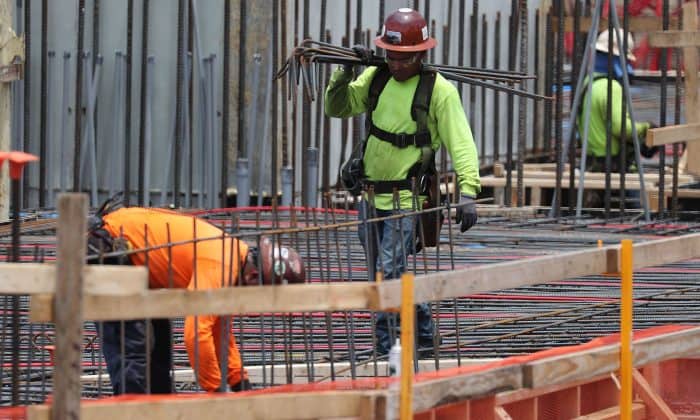 The economy added 164,000 jobs in July, keeping unemployment near a 50-year low, while some underlying markers of the job market strengthened, according to data released by the Bureau of Labor Statistics (BLS) on Aug. 2.
The unemployment rate remained at 3.7 percent, reflecting 6.1 million jobless Americans. That number, however, doesn't tell the whole story since it only includes people who sought a job in the past four weeks.
The BLS also releases a more comprehensive unemployment rate, called U-6, which also includes people who sought a job at least in the past 12 months as well as those employed part-time who want a full-time job. The U-6 inched down to 7 percent in July. The BLS only started to track this measure in 1994 and since then it only dropped under 7 percent three times, all in 2000, right before the dot-com bubble burst.
The labor force participation rate, the portion of working-age Americans employed or who looked for a job in the past 4 weeks, increased to 63 percent in July.
Tariffs
The labor market has been the backbone of the economy, allowing President Donald Trump to escalate tariffs on China—in a bid to force the geopolitical rival into dropping rogue trade practices—without dramatically affecting the U.S. economy.
Trump already imposed a 25 percent tariff on $250 billion of Chinese imports and on Aug. 1 announced an additional 10 percent tariff on $300 billion worth of Chinese imports starting Sept. 1.
China imposed tariffs on $110 billion of U.S. goods, but has much less room for escalation, since it only imported some $120 billion of U.S. goods in 2018 and appears slated to import even less this year, based on Census Bureau data.
The Fed
Federal Reserve Chairman Jerome Powell announced on July 31 an interest rate cut to take effect on Sept. 1, but disappointed traders by staying short of predicting more cuts to follow.
Trump has criticized the Fed for last year's rate hikes, saying the central bank misread the economy. He's specifically pointed to mild inflation and, most recently, monetary easing by the European Union and others.
"What the Market wanted to hear from Jay Powell and the Federal Reserve was that this was the beginning of a lengthy and aggressive rate-cutting cycle which would keep pace with China, The European Union and other countries around the world," he said in a July 31 tweet.
"As usual, Powell let us down, but at least he is ending quantitative tightening, which shouldn't have started in the first place – no inflation. We are winning anyway, but I am certainly not getting much help from the Federal Reserve!"
Quantitative tightening is the opposite of what the Fed did after the 2008 financial crash. Back then, it started to aggressively purchase treasury bonds, effectively printing money to the tune of about $3.5 trillion. Around the end of 2017, it started to shrink its balance sheet, effectively reducing—tightening—the money supply.
More Workers
One major justification for the Fed's behavior was the low unemployment rate. The Fed has generally considered a 4 percent unemployment rate as "full employment"—a signal to tighten the money supply lest the inflation shoot up as employers raise wages (and thus prices) to attract workers.
But since April 2018, the unemployment rate mostly remained under 4 percent, while the U-6 rate has kept decreasing by more than a percentage point, indicating there have been more workers getting pulled in from the sidelines than the bank expected. The Fed has been exploring in recent months whether to reevaluate how it gauges unemployment.
Meanwhile, inflation has undershot the central bank's 2 percent target this year, rising 1.6 percent on a year-on-year basis in June after a 1.5 percent gain in May. Average hourly earnings rose 8 cents, or 0.3 percent, in July, after the same increase in June. That lifted the annual increase in wages to 3.2 percent in July from 3.1 percent in June.
"As we enter the second half of the year, the labor market continues to signal a strong economy. … These numbers reflect a continuation of the longest economic expansion in U.S. history," said Sen. Mike Lee (R-Utah), chairman of the Senate's Joint Economic Committee, in an Aug. 2 statement.