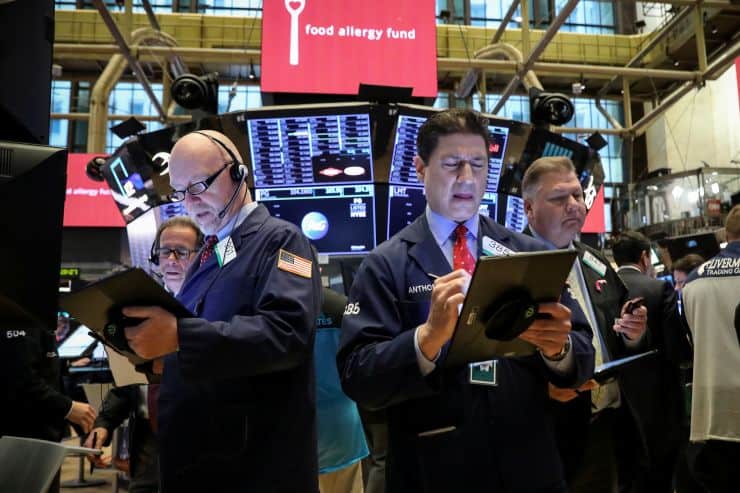 Stocks fell on Wednesday as the corporate earnings season rolled on with companies like CSX and Bank of America releasing their quarterly numbers.
The Dow Jones Industrial Average dropped 115.7 points, or 0.42%. The S&P 500 slid 0.65% to 2,984.42. The Nasdaq Composite closed 0.46% lower at 8,185.21.
Stocks closed at their lows of the day just after the Wall Street Journal reported that progress on a trade deal with China are stalled over restrictions on Huawei, citing people familiar with the talks.
Railroad giant CSX posted weaker-than-forecast quarterly results, sending its stock down more than 10% in its biggest one-day drop since 2008. The company also said it expects full-year revenue to fall between 1% and 2%. CSX's decline pushed the Dow Transports down 3.6%.
"It's shaping up to be a less-than-positive quarter and I doubt managements are going to be terribly optimistic about the rest of the year, although we have easier numbers to go up against," said Maris Ogg, president at Tower Bridge Advisors.
Bank of America reported better-than-expected earnings on Wednesday, driven by the strength of its retail banking operation. However, the company's CFO warned that lower rates would hit its net interest income growth. The stock rose around 0.7%.
United Airlines reported earnings and revenue that topped analyst expectations and increased its share buyback program by $3 billion.
Cintas shares jumped more than 8% after the First Aid kit maker's results beat expectations.
More than 7% of S&P 500 companies have reported second-quarter earnings thus far, according to FactSet data. Of those companies, about 85% have posted profits that beat analyst expectations. The reported earnings growth of those companies is about 3.1%.
Investors came into the earnings season with a bleak outlook on corporate profits. Analysts expected S&P 500 earnings to have fallen by 3% in the second quarter, FactSet data shows.
But Brad McMillan, chief investment officer at Commonwealth Financial Network, thinks this negativity could be a blessing for stocks moving forward.
"There are good reasons to believe that despite the downbeat expectations, earnings season could come in better than expected—which would be good for markets," McMillan said in a note. "With markets priced for slower growth, faster growth should be a tailwind. With markets priced for a meaningful earnings decline, a smaller decline—or even growth—would be another tailwind."
Wednesday's moves come after stocks posted slight losses in the previous session after President Donald Trump's skeptical comments on the ongoing U.S.-China trade war.
Trump on Tuesday said the world's two largest economies have a "long way to go" on trade, and suggested that the U.S. could impose sanctions on an additional $325 billion worth of Chinese goods.
The comments come just as Washington and Beijing seek to restart negotiations on a trade deal after Trump and Chinese President Xi Jinping agreed not to escalate tensions, having slapped tariffs on billions of dollars' worth of each other's imports over the past year.