£50,000 for gold watch Titanic widows gave to their rescuer
A GOLD watch three widows who survived the Titanic sinking gave to the captain of the ship that saved them is to be sold for £50,000. Madeline Astor, Marian Thayer and Eleanor Widener completed the transAtlantic journey safely but their husbands – then three of the richest men in the world – all died in the 1912 tragedy.
The widows bought the 18ct timepiece from New York jewellers Tiffany & Co and presented the thank you gift to Sir Arthur Rostron, captain of ocean liner RMS Carpathia, who came to the rescue of hundreds of survivors.
The Bolton-born hero, then 43, was hailed for navigating his ship at great speed through the ice field which had claimed the Titanic just three hours earlier.
Several rescued passengers died from exposure in the lifeboats, so every second counted.
Capt Rostron received the gift at Mrs Astor's lavish home on New York's Fifth Avenue.
The case was engraved with the words: "Presented to Captain Rostron with the heartfelt gratitude and appreciation of three survivors of the Titanic April 15th 1912. Mrs John B. Thayer, Mrs John Jacob Astor and Mrs George D. Widener".
John Astor was the richest passenger and worth the equivalent of £2.2billion today.
The 47-year-old caused controversy after divorcing his first wife and marrying Madeleine who was aged 18.
She was five months pregnant and the couple were returning to the US after a six-month honeymoon of Europe.
Fellow businessman John Thayer was last seen "looking pale" and heading for the stern with other terrified passengers moments before the ship plunged beneath waves.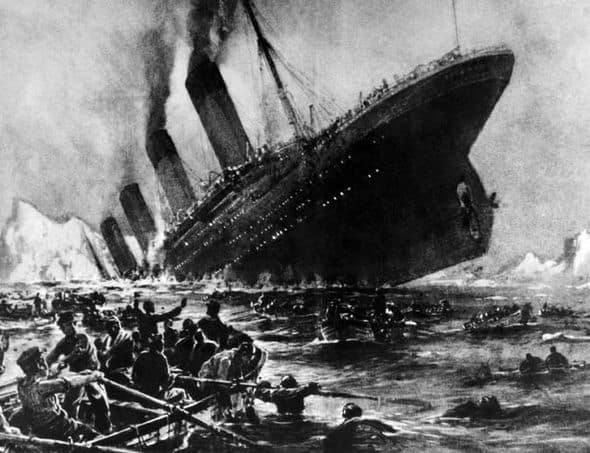 Alongside him was George Widener, who gave a dinner party in honour of the Titanic captain, Edward Smith, on the fateful evening.
Capt Rostron was later showered with gifts from other rich first-class passengers.
But the watch, up for auction next month with Henry Aldridge and Son in Devizes, Wiltshire, is of the finest quality and could fetch well in excess of £50,000.
Auctioneer Andrew Aldridge said: "It is an exquisite watch and you would expect the widow of one of the richest men on the planet would buy. It is beautifully enamelled with Rostron's initials and is in great condition despite it being over 100 years old.
"It is fabulous thing. Without the connection to the Titanic it would be worth a few thousand pounds."