The Dow Jones Industrial Average jumped on Friday after a report said President Donald Trump and Chinese leader Xi Jinping hope to discuss U.S.-China trade in November.
The 30-stock index rose 110.59 points to 25,669.32 after The Wall Street Journal said U.S. and Chinese officials are working on a road map for the meeting to take place. The S&P 500 also rose 0.3 percent to 2,850.13, while the Nasdaq Composite erased earlier losses to close 0.1 percent higher at 7,816.33.
"If you take the possibility of a trade war with China off the table for a few months that allows the market to work its way higher," said Ed Keon, chief investment strategist at QMA. "This has been one of the market's biggest worries. If you put it on the back burner, it's a good thing."
Friday's report comes after National Economic Council Director Larry Kudlow confirmed on Thursday earlier reports to CNBC which stated that China and the U.S. would hold a fresh round of trade discussions later on this month.
China and the U.S. have been engaged in a trade spat recently with both countries slapping tariffs on several of their imports. The ongoing trade tensions have left investors fearful than any escalation could results in a global economic slowdown or a hit to corporate profits.
Dubravko Lakos-Bujas, J.P. Morgan's head of U.S. equity strategy, told CNBC's "Halftime Report" on Friday that he remains confident the S&P 500 will reach his year-end target of 3,000.
"The only thing that's basically keeping us from getting there at this point is the trade and the geopolitical risks," Lakos-Bujas said. "If you get any sort of softer rhetoric there … I think the market could actually move higher by a few percentage points easily. And relatively quickly."
U.S. and Chinese officials are scheduled to have "mid-level talks" in Washington next week.
It has been a turbulent week for the market as Turkey's ongoing geopolitical and economic issues weighed against positive headlines on U.S.-Chinese trade negotiations.
The Dow recorded triple-digit moves every day this week, but managed to close higher for the week, along with the S&P 500. The Cboe Volatility index, widely considered the best fear gauge on Wall Street, hit its highest level in more than a month earlier this week.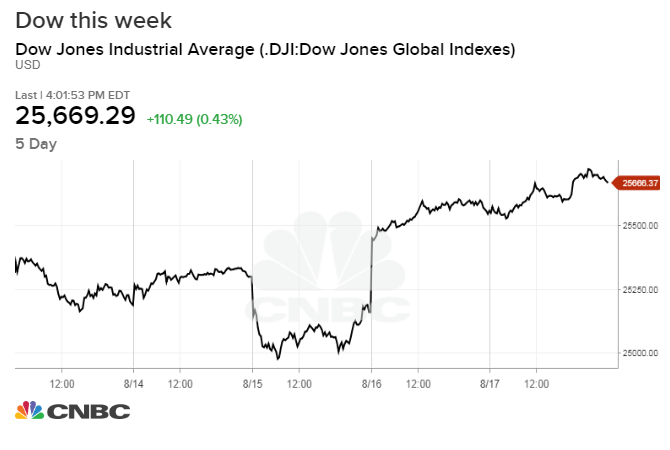 "I think the market is trying to digest everything that's going on in Turkey. On top of that, you now have some negotiations between the U.S. and China," said Daniel Deming, managing director at KKM Financial. "I think the market is trying to grapple with all that."
Turkey's currency, the lira, hit an all-time low against the dollar on Monday. The currency bounced off those lows but then resumed its decline on Friday amid fears of additional sanctions from Washington. The U.S. warned Turkey it would impose more levies if American pastor Andrew Brunson is not released; he has been detained in Turkey since 2016.
The threats sent the lira down by about 3.7 percent.
The lira has also been under pressure because of Turkish President Recep Tayyip Erdogan's tight grip on the country's central bank. Erdogan has said he wants interest rates to remain low to keep Turkey's growth rate high, despite surging inflation in the country.
"With inflation running quasi out of control, the central bank won't raise rates high enough to choke it off, and so the lira falls, and it will continue to fall until that occurs," said Tom Essaye, founder of The Sevens Report, in a note. "That's because the central bank has become a political arm of the prime minister, as have many other parts of the Turkish government."
"And, therein lies the problem. At the heart of the Turkish tragedy is the fear that Erdogan has become a quasi-dictator, enforcing his political will on bodies best left independent (e.g. central bank)," said Essaye.
Shares of Applied Materials dropped more than 7.5 percent after the company issued weaker–than-expected guidance for its fiscal fourth quarter. Meanwhile, Nvidia fell 4.9 percent after its revenue forecast disappointed investors. These declines brought down the VanEck Vectors Semiconductor exchange-traded fund (SMH) by 0.7 percent.