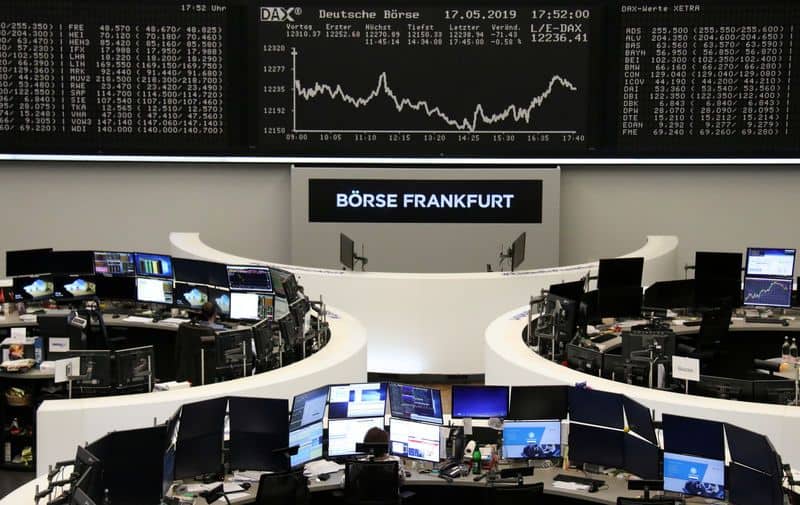 European stocks traded lower Wednesday after the U.S. and China resumed tough stances in their ongoing trade war.
The pan-European Stoxx 600 dropped 0.4% during the morning session, oil and gas stocks leading losses with a 1.5% decline, while banks fell 1.2%. Media stocks were the strongest performer with a 0.7% gain.
U.S. President Donald Trump on Tuesday defended the use of tariffs as part of his trade strategy, while China vowed a tough response if Washington insists on escalating trade tensions as the world's two largest economies attempt to negotiate a deal.
Asian stocks slid Wednesday after Wall Street ended a 6-day winning streak overnight, with China's consumer price index rising 2.7% year-on-year. Hong Kong's Hang Seng index led losses with a 1.59% drop by the afternoon as protests continued over the contentious Chinese extradition law.
Back in Europe, Reuters reported Tuesday that euro zone deputy finance ministers supported the European Commission's view that disciplinary action is warranted against Italy over the country's rising debt.
Meanwhile, French President Emmanuel Macron said Tuesday that he would support German Chancellor Angela Merkel if she seeks to succeed Jean-Claude Juncker as president of the European Commission.
In corporate news, French technology giant Dassault Systemes has agreed to acquire Medidata Solutions in an all-cash deal worth $5.8 billion on an enterprise value basis. Dassault shares fell 1% by mid-morning.
In the U.K., senior lawmaker Nicky Morgan, chair of the Treasury Select Committee, requested information from influential British stockbroker Hargreaves Lansdown about its links to the Woodford Equity Income fund, which was suspended last week amid a raft of bad stock calls and investor withdrawals.
Shares of German publisher Axel Springer soared 11.9% in early deals after U.S. private equity firm KKR offered to buy out its minority shareholders.
At the other end of the European blue chip index, British American Tobacco (BAT) saw its shares fall 5% after warning on Wednesday of steeper declines in global cigarette sales.