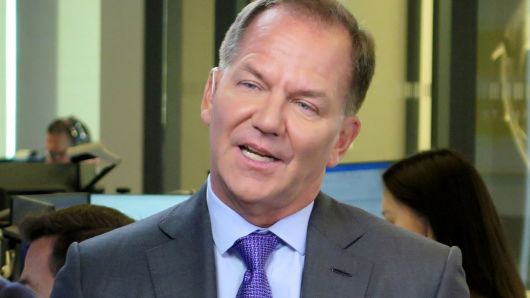 Hedge-fund manager Paul Tudor Jones said Monday he is bullish U.S. stocks this year, noting American equities will outperform their global counterparts.
"I think this year we're going to continue to have U.S. exceptionalism and U.S. outperformance," Tudor Jones told CNBC's Bob Pisani in an interview. "The S&P 500 will outperform its peers, it will outperform emerging markets."
"I think from that, you'll have to take all the correlated trades. Rates won't go down, they will probably go back up and I think the dollar stays firm," Tudor Jones said. "I'm very bullish in the U.S. stock market."
The S&P 500 has surged about 8 percent so far this year after a rip-roaring rally in January. That sharp bounce followed a massive decline in December that briefly sent the broad index into bear-market territory on an intraday basis.
"Last year, we walked into a situation with a lot of euphoria; a huge amount of long-equity positions both in the U.S. and globally," Tudor Jones said. "We took those positions and we washed them into a trillion dollars in corporate buybacks. Fast forward to where we are today, all that leveraged positioning … that's been washed out."
Equities have gotten a boost this year as the Federal Reserve has signaled it will be patient in raising rates. Stocks have also gotten a boost as U.S. and Chinese trade officials try to strike a trade deal before an early March deadline.
Tudor Jones is famous for making big macro calls. One of his biggest predictions came when he correctly called the 1987 crash. However, Tudor Jones told CNBC in June he thought the stocks could go "crazy" higher to end 2018. The S&P 500 closed last year down more than 6 percent.