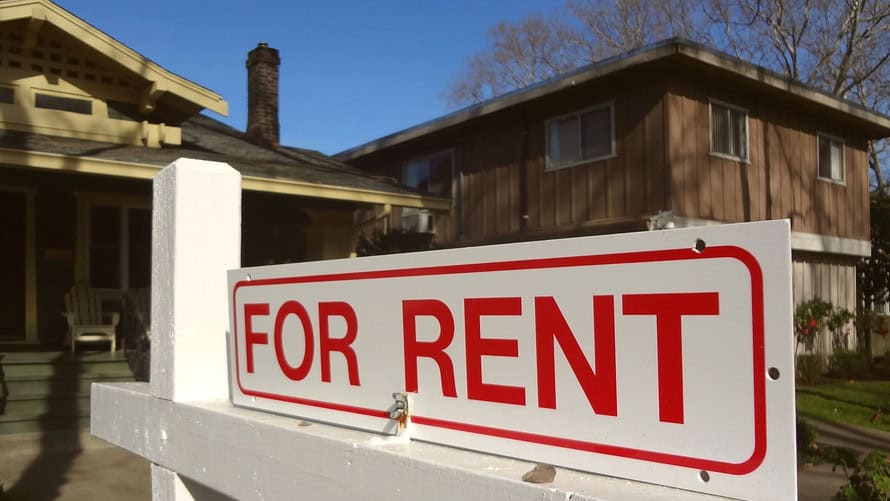 A majority of Americans are renting on the cheap — at least, compared to what they'd be paying if they bought a home.
In more than half (59%) of housing markets nationwide — 442 of 755 U.S. counties — renting a three-bedroom property is now more affordable than buying a median-priced home, according to a new report from real-estate data firm Attom Data Solutions. Among the 40 counties across the country with more than 1 million residents, only three had housing markets where it was still cheaper to buy a home than rent one: Wayne County (Detroit), Mich.; Philadelphia County, Pa.; and Cuyahoga County, Ohio.
Moreover, home prices are rising faster than wages in 80% of housing markets nationwide, including everywhere from Chicago to Houston to Phoenix.
"The buy-versus-rent calculus is shifting toward renting being more affordable," said Daren Blomquist, senior vice president at Attom Data Solutions. With a strong jobs market, Americans want to stay mobile and often can't afford to buy near urban centers where they're more likely to get a job at higher wages, he said.
Renting may be better than owning to build wealth — if you're disciplined enough to invest the money you save by not owning a property, a 2017 study suggested. "When considering buying and building wealth through equity appreciation versus renting, and reinvesting in a portfolio of stocks and bonds, property appreciation does not change the results," co-author Ken Johnson, real estate economist at Florida Atlantic University's College of Business, said.
Interest rates rose last year and are expected to keep increasing in 2019, making buying a home with a mortgage less affordable for many — even younger Americans who aim to pay off their home in 20 or 30 years and reap the appreciation of a rise in home values. And despite a slight drop in demand in some housing markets, tight housing inventory across the country is still fueling competition for homes and consequently making them more expensive.
Plus, Blomquist said, the "drive until you afford" mentality has made many once-affordable suburbs and exurbs vastly more expensive. Large swaths of the New Jersey and New York commuting belt have seen double-digit house price increases in recent years, for instance.
The new tax law has further complicated the math in deciding whether to rent or buy, according to the Urban Institute. Under the 2017 tax code, a family of three with an annual income of $150,000 would be better off buying if their rent exceeded $1,507 per month. But with the new tax code, they'd have to pay more than $1,885 per month to make buying worthwhile. "Do we expect people not to buy because of these changes? At the margin, yes," researchers at the Urban Institute wrote.
As MarketWatch's Tax Guy Bill Bischoff wrote, "the new law limits your deduction for state and local income and property taxes to a combined total of $10,000 ($5,000 if you use married filing separate status). Foreign real property taxes can no longer be deducted. So no more property tax write-offs for your place in Cabo. However, you can still choose to deduct state and local sales taxes instead of state and local income taxes."
Rents are rising faster than wages in most markets
What's more, in 52% of markets, including Chicago and Los Angeles, rents are rising faster than wages. And more renters may also find themselves priced out of the housing market, because home prices are appreciating more quickly than rents in 70% of markets. As a result, the old guideline of not spending more than 30% of your income on rent (or a mortgage) has become increasingly difficult to follow in cities like San Francisco and New York.
Take Huntsville, Ala., which had the most affordable rental market in the country back in January 2018, according to Attom Data Solutions. Last year, the average renter there only had to devote 22.3% of their wages to rent. But home prices in that area rose nearly 11% between 2016 and 2017, as investors flocked and bought up properties to rent out. And the prevailing wages in places like Huntsville aren't as high as in cities like New York or Seattle.
So for those who are no longer happy renting, they may not have much choice. "It's great in theory to buy in those markets and have a lot of disposable income, but the problem is going to be finding a job, period, or a job that will pay as well," Blomquist said.