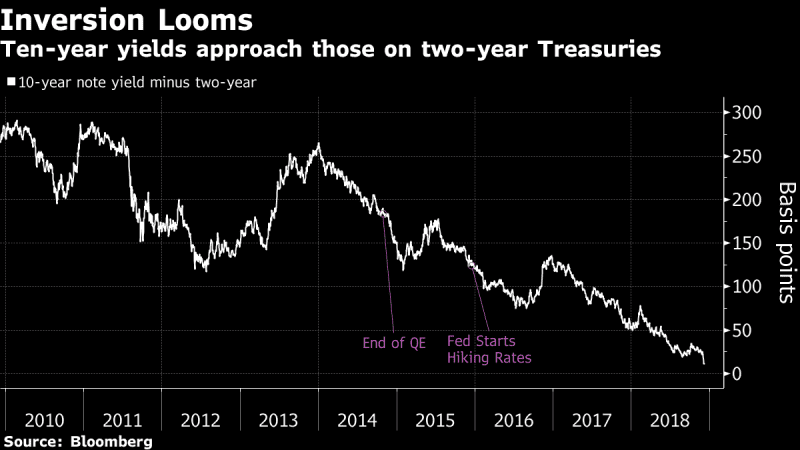 Asian stocks slumped with U.S. futures, the Treasury yield curve edged closer towards inversion and the yen climbed on Thursday as the investor aversion to risk that's been prevalent for much of the quarter resumed.
The MSCI Asia Pacific Index was on track for the worst back-to-back decline since October, with benchmarks retreating from Sydney to Shanghai. Hong Kong shares were among the worst performers after the arrest of the chief financial officer of China tech giant Huawei Technologies Co. reignited concerns about U.S.-China tensions. Oil fell back below $53 a barrel in New York. Yields on 10-year Treasuries dipped below 2.90 percent at one point, bringing them all the nearer to two-year rates. With inversions widely seen as a red flag for a future recession, the trend has added to global investor jitters. The yuan resumed declines.
After U.S. markets were closed Wednesday to honor former President George H.W. Bush, S&P 500 Index futures had a volatile start Thursday, with data indicating the CME Group had to pause trading.
While China's pledge on Wednesday to move quickly on trade commitments to the U.S. had helped ease selling pressure in equities yesterday, news that Canada has arrested the CFO of Huawei and may extradite her to the U.S. could put a damper on sentiment. U.S. President Donald Trump said Wednesday that China was sending "very strong signals" on trade.
"This is a buying opportunity," said Damien Loh, chief investment officer at Ensemble Capital Pte Ltd., on Bloomberg Television. "Maybe not in the next hour. Maybe not by the end of the day. But over the next few days to scale into equities overall — especially in China," he said, predicting that the Huawei flap wouldn't impair progress in Sino-American talks.
Elsewhere, Bank of Japan Governor Haruhiko Kuroda said economic risks from abroad could be severe, and the Federal Reserve's Beige Book report showed fading optimism over growth prospects at U.S. firms even as most districts continued to report a modest expansion.
The pound fluctuated as investors digested legal advice over Prime Minister Theresa May's Brexit deal, which confirmed that the so-called customs backstop — the insurance mechanism that kicks in if the Irish border issue cannot be resolved — could remain "indefinitely."
Terminal subscribers can read our markets blog.
Some of the key events investors will be focused on this week:
OPEC ministers meet in Vienna Thursday. Friday brings the U.S. monthly employment report for November.China November trade data are due on Saturday.
And here are the main moves in markets:
Stocks
The MSCI Asia Pacific Index slid 1.3 percent as of 11:22 a.m. in Tokyo, down more than 1 percent for a second straight day.Japan's Topix Index dropped 1.6 percent. Hang Seng slumped 2.2 percent.Australia's S&P/ASX 200 Index fell 0.4 percent. Futures on the S&P 500 Index slid 1.1 percent.Kospi Index was down 0.9 percent
Currencies
The yen rose 0.4 percent to 112.79 per dollar. The offshore yuan slipped 0.2 percent to 6.8752 per dollar. The euro bought $1.1349.The British pound was at $1.2728.
Bonds
10-year Treasury yields dipped to 2.90 percent.The yield on Australia's 10-year bonds dropped two basis points to 2.48 percent