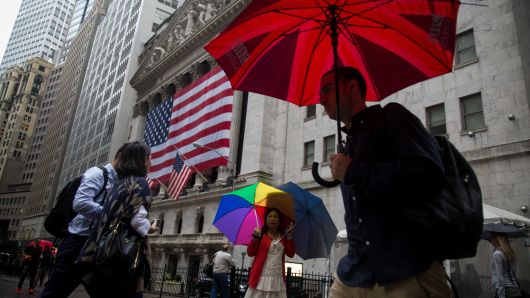 Bonds will become more attractive than stocks only when the 10-year Treasury note yield reaches 5 percent, according to Bank of America Merrill Lynch equity strategists.
With interest rates rising, Wall Street has been handicapping how high yields can go before the stock market begins to really suffer, and some analysts say the market could start to get nervous as soon as the 10-year touches 3.5 percent. The 10-year reached 3.26 percent early Tuesday before retreating.
But the BofAML strategists say it's 5 percent, where the return on equity investments is challenged by the ability to earn yield in the bond market.
"Asset allocation is a dynamic process, and we would hate to oversimplify. But we tested a few frameworks to determine the 10-yr yield breakpoint at which bonds look more attractive than stocks, and they all spit out the same number: 5%," the BofAML strategists wrote.
The analysts said they ran tests to see where Wall Street allocations to stocks peaked.
Five percent "is the level of the 10-yr at which our market derived equity risk premium framework indicates that stocks trade at fair value to bonds, all else equal," they wrote. "5% is the expected return of the S&P 500 over the next decade, based on our valuation framework… And 5% on the 10-yr is the level at which the reward to risk ratio for stocks vs. bonds skews more favorably toward bonds."
"If the 10yr Treasury, the so-called "risk-free" rate, climbs to the level of expected equity returns, the decision between stocks and bonds would be clear cut," the strategists noted.
Sell bonds on rising rates
Stocks have been selling off in recent sessions, as the 10-year yield broke out to new 7-year highs after Fed Chairman Jerome Powell said the Fed is nowhere near neutral with its rate hiking. Neutral is a level at which interest rates neither stimulate nor stall the economy.
Despite the runup in rates, BofAML analysts said it is not time to sell equities.
"We think stocks, especially large caps, are attractive amid rising rates based on historical analysis and the output of our other models. Rising rates are a more definitive reason to sell bonds, in our view," they said.
However, there are stocks that could have problems, or hit "pot holes," as interest rates go higher, the analysts said. Those stocks include high-dividend-paying "bond proxies"; growth stocks that are credit sensitive with no current earnings, and companies that have not used low rates to lock in lower debt payments.
The analysts also see risk in small caps. "Not only are they longer duration and more credit sensitive than large caps, but they have more floating rate risk and are close to record leverage," they said.
The analysts said they prefer medium duration, dividend growth companies. Those type of stocks are generally in their preferred sectors, which include health care, materials, financials, industrials and old technology.